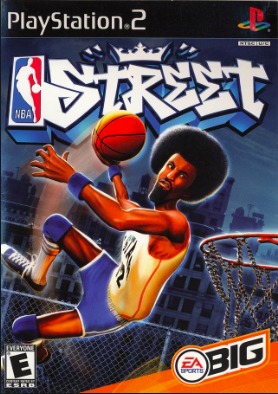 Alright. There is a first time for everything, and I think that this is probably the first (and last) time that anyone will hear me saying this about a sports game. NBA Street was one of the most enjoyable and addicting game to me when it first came out in 2002 for PlayStation 2--more so than any other thing that I had at my fingertips. My cousin and I would fight FOR HOURS against each other and trash talk while controlling our custom players on the hard scrabble street courts presented in the game, and there was nothing you could do to stop us. Sports games, in general, seem pretty boring to me--probably a combination of my lack of interest in the content as well as not really understanding what the rules were in real life. I enjoy being able to play as a character that I have some kind of emotional resonance or connection with, and in sports games where half of the characters are already a reality, I just don't find that. NBA Street was different.
NBA Street is essentially an arcade version of basketball, but what I liked most about it was that it didn't stick by the "traditional" rules of basketball, and was instead mostly scored on the number of flashy moves you could do. It also bears noting that the traditional scoring of basketball did not apply in this game, nor did the regular rules. Similarly, physics wasn't really a thing as players could easily jump to catch 3-point shots and block them from getting into the hoop--something that was pretty regularly encouraged and used as a defensive play.
Essentially, NBA Street has nothing to do with "real" basketball games, and was really more of a fantasy game that happened to include players from well-known teams at the time. Thrown in with these "regular" players were Street Legends that essentially served as "bosses" for the game, and who you were able to "unlock" if you beat it. If you are playing single player, you get to create your own custom character, and travel around the US picking up players from different teams and adding them to the individual characters that you can pick from.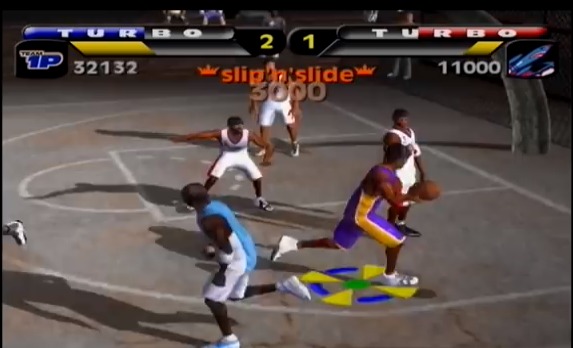 You, as the controller, are able to select three different players to face off against the opponent team, and are able to win the game by being the first person to get to 21 points. There are no clocks, and no real rules except that in order to win you need to have the aforementioned amount of points and be beating the other team by at least 2 points. Pretty simple, right? Besides gaining points by actually making baskets, you are also able to do so by using flashy combo moves, like dunking, faking out, and the pretty-much-not-possible-IRL jump blocks that I mentioned above. If you fill up a meter at the top of the screen measuring the amount of flashy moves that you've used, you are then able to perform a "Gamebreaker"--a shot that, if you make it, both gives you points and takes away points from your opponents score. Again, this is obviously NOT based in real life and has no real foundation in true sport which is, I guess, to be expected from the title. The courts that you are able to play on, and the subsequent street bosses that come with them are:
Pacific BLVD. (Vancouver, British Columbia)
South Beach (Miami, Florida)
Route 66 (Northern Arizona)
The Cage (Manhattan, New York)
The Loop (Chicago, Illinois)
Fort Point (San Francisco, California)
Beacon Hill (Boston, Massachusetts - Biggs)
Broad Street (Philadelphia, Pennsylvania - Bonafide)
The Yard (Detroit, Michigan - Drake)
Venice Beach (Venice, California - DJ)
Yakatomi Plaza (Los Angeles, California - Takashi)
Rucker Park (Harlem, New York - Stretch & Michael Jordan)
There were also players from about twenty different teams--listing them would totally jank up the formatting of this blog, and I doubt you'd read it anyway, but if for some reason you are interested, you can check out the full list
here.
While not really the most complex of games, I love NBA Street because it is the only sports game that I've ever actually enjoyed playing, let alone watching. The play style and graphics, along with the commentating style of Joe "The Show" Jackson make this a game that I would never want to stop playing then or now. If you've never played it, I unfortunately was not able to find an easy emulator online--but you can
buy it here.
Happy gaming!