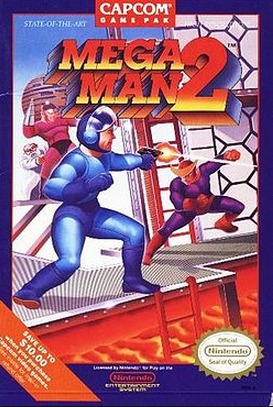 Mega Man 2 is widely known as one of the best games in the series, and to some even as one of the best games of all time. Not only did it evolve the earlier Mega Man game into something that could be more easily playable, but its graphics, sound, and plot are also known as some of the more enjoyable ones in the series.
Despite the original Mega Man's dwindling popularity, Capcom decided to allow the game design team to continue on with development for Mega Man 2. This mostly involved reusing leftover scenes from the older game, as well as developing a new structure for the traditional platformer/action game.
Mega Man 2 differed from the original Mega Man in a few different ways: the player was able to regenerate health in his energy tank, and also use a password system in order for the game to "remember" what achievements the player had achieved upon restart. Mega Man did not have these features, and also allowed the player to return to previously beat levels—something that Mega Man 2 put an end to.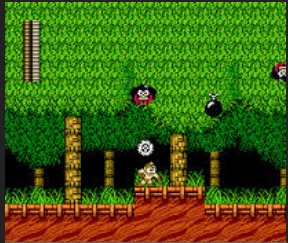 The plot of Mega Man 2 is pretty traditional: it takes place in an undefined year (200X) after the events of the first Mega Man game. Dr. Wily, the franchise's antagonist, has created eight new robot bosses as his henchmen, as well as a new fortress for Mega Man to infiltrate. We don't really get any information from Dr. Light (Mega Man's creator) as to
why
this is happening, but we know that Dr. Wily is a total jerk, and thus that we have to take him down. The game, then, is based on 14 levels: one for each of the robot bosses and six for Dr. Wily's fortress, and the enemy himself at the end.
The game play is why I really liked this game. The eight robot bosses are: Metal Man, Air Man, Bubble Man, Quick Man, Crash Man, Flash Man, Heat Man, and Wood Man. For each of these there is a respective level fitting the "theme" of the boss. So, for example, Wood Man's level (as you can see in the screenshot above) is wood-themed, as is his weapon. Each boss has a specific weapon to go with their level, which Mega Man can then equip after having beaten them. This is so legit.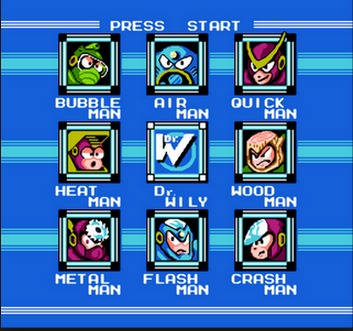 Not only does this create a new element of play to the game, but it also adds an additional strategizing that I don't think was required in the previous Mega Man game. While you can't play levels over again in Mega Man 2, you
can
choose which order you want to play them in, and hence decide which weapons you get in which order. This, then, means that you can choose to get a weapon that the next boss you choose to fight has a weakness to. Cool, right? This fascinated me as a young child, probably for the same reason that Pokemon type-matchups fascinate me now.
Otherwise, Mega Man 2 is similar to the original Mega Man game, and the games than followed. The player controls the character using their NES controller and is able to run, jump, and shoot to get through their enemies. For me, it is really the plot and new game mechanics that made this infinitely better than the others. I can never get the air level out of my head! If you want to give this game a try, I've found an online version
here
, you could also download
a ROM for your emulator here.
Happy gaming!